" Treat your Google page 1 as your business card" – Neil Patel
Reputation Management refers to a set of methods by which you can manage the appearance of a person or a company online. This is mainly done on third party websites which are not in your control.
Here are 5 things that you can quickly implement today to find out how you are perceived online and what are the steps that you need to take in order to improve things:
1. Self-Assessment of the Situation
Search your name, your business name or your business name review on Google. Carefully examine each and every search result. What does the search result look like? Does it have a positive impact on your reputation or a negative one? Do this for the first 20 results and then come up with a list of negative ones.
It is imperative to become aware of your online reputation so that you can take effective measures to make sure to have a good impression on anyone who is searching for you and your business.

2. Google & Facebook Reviews
This applies to businesses who offer products or services. Whenever you search for a business name on Google, there is a widget on the right that shows you what reviews that business has. Similarly, when you search for a business on Facebook, you can see its reviews.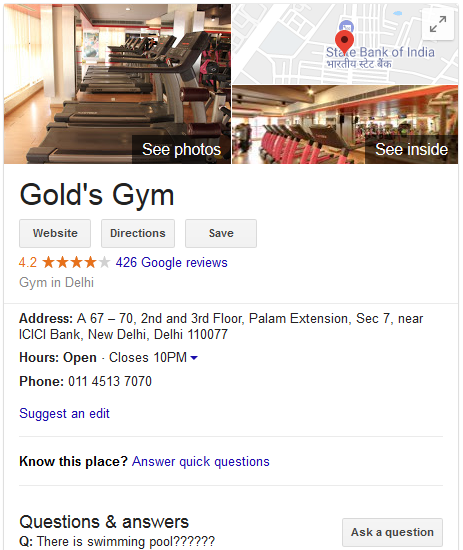 Reviews are one of the most important factors why a customer would prefer your business over another. These are pretty simple to get as well. Just ask your previous and existing customers to leave a review of your product or services by sharing with them the Google Reviews link or your Facebook Page link. Over the period of time, you will get a reasonably high number of reviews for your business.
Special Tip – Be open to the feedback. You never know what is coming!
3. News Appearance
There are times when you or your business is featured in the news for all the wrong reasons. The news sites are so authoritative that they will appear in the first page of search results for years to come. However, there are solutions to this problem.

One of the commonly used solutions is to have an appearance in the news again and let the same newspaper cover you. This would mean a different story and the latest one as well. Most likely, the old news story will be replaced with the new one in the search results. If not, there are various ways to get this done as well.
4. Building Authority
High authority sites get higher priority in search engine results. Building personal and company profiles on various sites would give you added advantages of rankings multiple online properties to rank for your searched terms.

Here are a few options:
Profiles on sites like Facebook, Linked In, Just Dial, India Mart, Sulekha etc.
Profiles on category related directories such as Practo (for doctors and hospitals), Find Law (for lawyers), Shiksha (for Educational Institutions) etc.
Publishing Guest Articles on various sites related to your business.
Paid Media – Getting exposure on various authoritative sites like Forbes, Times of India, Hindustan Times, Yahoo, Entrepreneur, Business etc.
5. Take Corrective Measures
People do not have the habit of criticizing someone without any reason. If there is a problem regarding your services, you must take corrective measures and make sure to eliminate it.

As far as handling negative feedback is concerned, just be polite and try and understand the situation in which a person has left the feedback. Speak with them regarding the issues they had and try and rectify them. Once they are solved, make sure to contact them and ask for removal or correction of the feedback.
Fact – Very few people will write a positive review if they liked your services but almost every one will write a negative review if they had any problem with your services.
If you are stuck at any point, just let me know, and I would be happy to help.
Need more information about anything? – Just give me a call at +919899000455 or send me an email at kapil@magicwandlabs.com