Here are five things that we have implemented on our client websites in one single day and have seen leads increase by up to 150%.
1. Conversion Rate Optimization –Red Button vs. Green Button.
While, to a certain number of people, the green buttons on the site looks good, the facts (in most of the cases) tell you that the variants of Red color buttons work really well in terms of a number of clicks. Have you tested which button color converts better for your site?
Test Results from One of Our Clients
More Information on Split Tests – https://www.optimizely.com/, https://conversionxl.com/
2. Capturing the User's Intent – Adding a Funnel
Each website is a mix of buyer-focused content and generic content. While the generic content focusing on keywords like "How much time does it take to grow hair" is very useful for a site to bring in traffic, the buyer keywords like "best hair growth products", "best hair transplant surgeon" are the ones that bring in money.
Bringing the users to the right pages of your site and showing them the right sections of your site based on their intent increases conversions a lot.
Having a funnel, adds to the charm. For a user to go from a generic page to the money making page, there needs to be a way and that way is called a funnel.
Test Results from One of Our Clients
3. Spying on Your Users – Installing a CCTV on Your Website
It is very important to understand how your users are interacting with your website. Imagine if you could actually see what they are doing on your site.
Try out Hot Jar and Crazy Egg to check user activity videos & heat-maps and then make content changes according to results.
4. Don't Let Your Users Forget You – Re-Target Them!
If you are not re-targeting on Google and Facebook, you need to stop doing your business now! Just kidding, but literally, you need to stop doing what you are doing and start re-targeting on these platforms. The re-targeting ads are fairly simple to set up, and with a great offer, you can get amazing leads and conversions.
We have seen a 50-120% increase in leads when we have used Re-Targeting for various types of businesses. It is a strategy of not giving up and trying again & again to turn an online visitor into your customer.
More Information – https://en-gb.facebook.com/business/learn/facebook-ads-reach-existing-customers, https://support.google.com/google-ads/answer/3210317
5. Mobile Traffic is the Key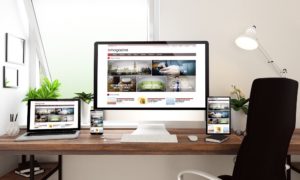 We have clients which generate between 60-80% of the traffic from mobile devices. This is the main reason why we have mobile-focused websites which open at blazing speeds & convert like a charm. Any business site needs to be responsive to cater to various types of modern devices.
If you are stuck at any point, just let me know, and I would be happy to help. Need more information about anything? – Just give me a call at +919899000455 or send me an email at kapil@magicwandlabs.com